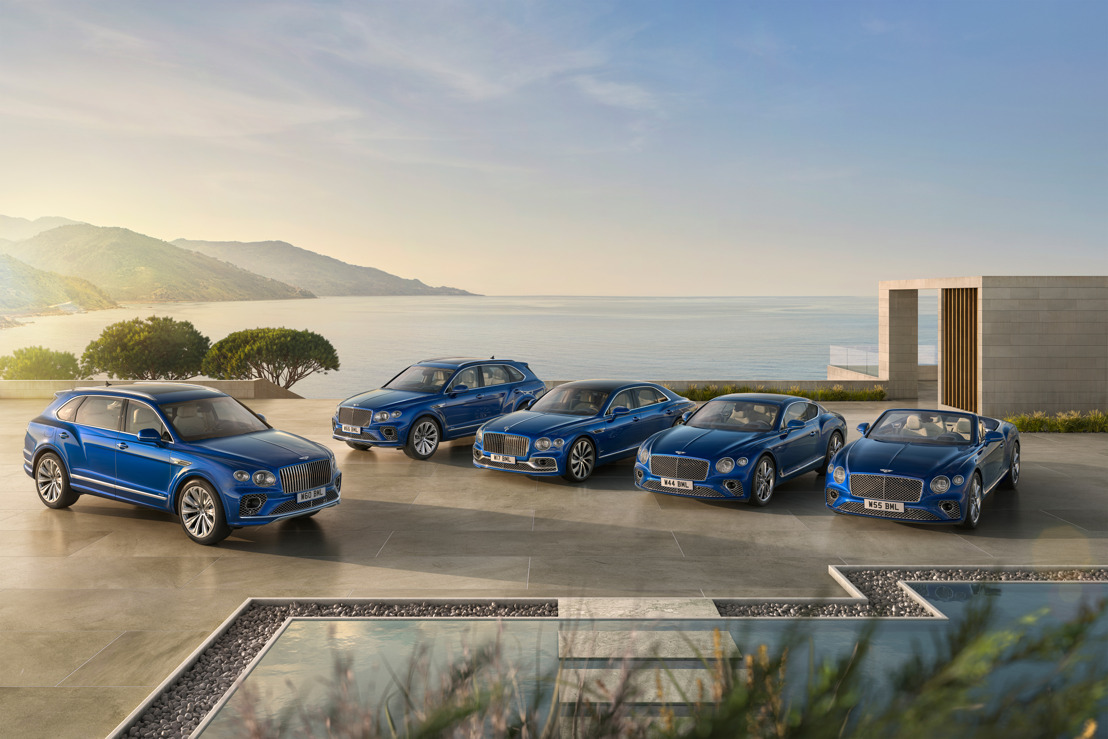 WELLBEING BEHIND THE WHEEL – THE NEW AZURE RANGE
New Azure range prioritises comfort and wellbeing
Azure variants to be available across all five Bentley model lines
Elegant and timeless design with unique Azure signatures
Curated selection of features designed for 'wellbeing behind the wheel'
Developed with help of wellbeing experts and neuroscientists
Advanced driver assistance technology for safer, more relaxing journeys
Stress-free interior ambience enhances personal serenity and wellness
See the film: www.bentleymedia.com/en/wellbeing-behind-the-wheel
Effortless performance and comfort over long distances have long been hallmarks of Bentley, which is now building on this reputation with a new family available across all five model lines. The new Azure range will provide Bentley customers with a curated selection of features designed to enhance the wellbeing and comfort of the vehicle's occupants, making every journey a relaxing experience regardless of distance.
The new range will be a permanent offering across the full Bentley model line-up, including Bentayga, Bentayga EWB, Flying Spur, Continental GT and Continental GT Convertible. Azure is more than a specification; it includes tactile and visual cues designed to reduce stress and promote wellbeing, along with driver assistance technologies for smoother, safer journeys. Where the Bentley Speed family takes the ultimate in performance as its prime focus, a Bentley Azure will accentuate the other facet of a Bentley's character; the ability to traverse long distances swiftly and smoothly, leaving driver and passengers to alight at journey's end feeling refreshed, alert and ready to resume their busy lives.
With Mulliner representing the pinnacle of both luxury and performance, the Azure and Speed badges represent subtly different interpretations of the Bentley driving experience. Every Bentley combines relaxation with exhilaration; the Azure range provide those customers who prioritise the former with a carefully curated selection of features designed to promote comfort and wellbeing.
Adrian Hallmark, Chairman and Chief Executive of Bentley Motors, comments: "The Azure, like Speed and Mulliner, offers our customers clarity during the enjoyable process of choosing their ideal Bentleys. We know from the scientific research undertaken by our specialists that increased agency comes through choice, and we have taken a holistic approach to wellbeing behing the wheel, uniting technology, design and craftsmanship to deliver driver and passengers to their destination more relaxed than when they set off."
Safety, Serenity and Relaxation
Seating is the foundation for driving comfort and control, and all Bentley Azures feature the Front Seat Comfort Specification. With up to 22-way adjustable seats, passengers of all heights and weights, from the 95th percentile male to the 5th percentile female, can find their ideal seating position while the heating and ventilation function helps to maintain the body's optimum temperature for comfort and alertness.
When we slump, our bodies can take up to 30 per cent less oxygen, reducing our ability to think and placing additional stress on the body. Azure features a massage function with six programmable settings promotes the constant micro-adjustments in muscle and posture that are so vital in preventing fatigue. Adjustable side bolsters, electric seatbelt adjustment and comfort headrests complete the Front Seat Comfort specification.
Another key element of the Azure range specification is Bentley Dynamic Ride, Bentley's 48V active anti-roll control system that enhances ride comfort and limits roll for smoother, more relaxing journeys. The system cushions driver and passengers from excessive movement by electronically decoupling the anti-roll bars when appropriate to smooth the ride, then applying up to 1300 Nm of anti-roll torque in 0.3 seconds when cornering to keep the body flat and stable.
All Azure models feature the Touring Specification of driver assistance systems, imbuing the driver with a sense of confidence and relaxed control whatever the traffic or weather conditions. Adaptive Cruise Control* maintains a set distance from the vehicle in front, slowing down (to a halt if necessary) when the vehicle in front does so and resuming the set speed once the lane is clear. Together with Lane Assist*, Traffic Assist* and Bentley Safeguard, the Bentley's suite of onboard radar and camera systems constantly monitor the surrounding traffic and roads and can intervene if necessary to prevent or avoid an accident.
ing and re-energising environment of the Azure cabin, that reduces driver fatigue, through its multisensory and science-informed design, can only help to enhance the safety of the car. Studies have shown that in 20 per cent of all road collisions, tiredness has played a role.
The driver's sense of relaxed control is further enhanced by the Head-up Display, providing directions and navigation directly in the line of sight, and by Night Vision, which uses infra-red cameras to identify pedestrians, cyclists and fauna outside the beam of the LED headlights.
The Science of Wellbeing
Stress plays an increasing part in our lives; according to a recent Global Workplace report, daily stress reached a record high in 2021. This has repercussions for road safety; another report, co-sponsored by Brake and Direct Line, found that 71 per cent of drivers surveyed had lost concentration on the road within the last 12 months as a result of stress or annoyance.
To analyse and develop Bentley's new concept of "wellbeing behind the wheel", the Azure development team engaged creative neuroscientist Katherine Templar-Lewis, from Kinda Studios, whose wide-ranging research on the external factors that influence stress was key in defining the 'wellbeing behind the wheel' concept that the Azure feature suite embodies. Considering everything from light, to the patterns we see around us, to the impact of in-car posture and the importance and thermal comfort, Katherine's research paired with Bentley's own measurements to give science-based analysis to the relaxing experience of travelling in a Bentley, as a driver or a passenger.
For example, the two most crucial influences over onboard relaxation are ride comfort and NVH – Noise, Vibration and Harshness. Research that tracked thousands of people over a four year period found that those exposed to traffic noise over 70 decibels (db) were 65 per cent more at risk of depression. Taking the Bentayga EWB as an example, as the lead car for the Azure family, measurements shot it to be quieter inside than its competitors, by between 4 per cent and 26 per cent depending on frequency and position inside the car. Secondary ride comfort is another key variable that affects onboard wellness – the smoother the ride, the more calming the journey. At typical road speeds and in the crucial frequency range of 5 Hz to 20 Hz, the Bentayga EWB has up to 27 per cent lower secondary ride vibration than its competitors.
Facts like these inspired Bentley's team to adopt a Science-Informed Design approach, using a variety of interdisciplinary methods to create the most positive sensation of wellness and comfort for Bentley drivers and their passengers. And because a car is a multisensory environment, this approach involved designing not simply for the senses of vision, hearing, touch and smell but also for the position of our bodies (proprioception), gravity and acceleration (vestibular), temperature and even the body's internal sensation (interoception).
To take an example: where once a vehicle acoustic engineer would have focused on the suppression of noise, vibration, and harshness (areas of refinement in which Bentley cars have always led the field) the focus is now as much on the quality of sound. Escaping the outside world into a personalised environment, with less outside noise, that could otherwise reduce attention, impact memory and increase stress response.
According to Bentley Acoustics Engineer Andy Jackson, "We have to understand how we all detect and respond to sounds and then work out how to engineer those sounds into the components that make a Bentley.
"We balance the sound from the vehicle and cocoon the occupants from outside world by minimizing sound penetration. We harmonise the acoustics with the other sensory inputs in the vehicle. The sound is literally in the vehicle's DNA; it's authentic and crafted."
Careful interplay of Colour, Texture and Tactility
Maria Mulder, Head of Colour & Trim at Bentley Motors, comments:
"To create the Azure range, we consulted with neuroscientists to understand the interrelationship of colour, texture, tactility and even scent to create an atmosphere of relaxed serenity. When we see pleasing forms, shapes and colours our brains release chemicals such as dopamine that not only make us feel good but are good for our body and sense of wellbeing. Sensory receptors convert physical stimuli in neural activity, creating changes in our brain and nervous system. Every fabric, sound, motion, colour and touch continuously impacts our nervous system and the Azure cabin has been finessed accordingly."
To that end, the Azure interior design specification includes 'wellness quilting'; the fractal patterns of precisely crafted diamond quilted upholstery create an eye-pleasing interplay of light and shade and provide an irresistible invitation to explore them with one's fingertips. And while Bentley customers will always have access to the full range of wood veneers, the Azure range offer a choice of three open pore veneers; Dark Walnut, Crown-Cut Walnut and Koa, whose softer, satin, reflective quality evokes a mood of calm.
Azure customers also have a full range of 15 hide colours and colour splits to choose from, with contrast stitching as standard and seat piping as a no-cost option. Complementing these visual pleasures are Azure illuminated treadplates, Bentley 'B' foot pedals, mood lighting and a duo-tone steering wheel with heating function.
Elegant and Distinctive Design
Azure variants will be offered across the full Bentley model line-up, including Bentayga, Bentayga EWB, Flying Spur, Continental GT and Continental GT Convertible. All models will display 'Azure' badging on the exterior, treadplates, fascia and seat embroidery.
Other design constants for Azure include bright chrome lower bumper grilles, unique 22" ten-spoke wheels, wellness quilted seats and finishing touches such as the Bentley 'jewel' filler cap. The overall effect is elegant, visually pleasing and timeless.
The Flying Spur Azure also features a glass-to-glass panoramic sunroof as part of the specification. The feature fills the cabin with natural light, while the front panel tilts and slides over the fixed rear to let fresh air in. Electric Alcantara blinds, color matched to the interior, provide shade when preferred, in the soft and tactile material that is an alternative to leather. A fixed panoramic glass sunroof is included in the Continental GT Azure specificaiton.
An Enduring Quest for Refinement
Bentley is remarkable among automotive brands in that it has always spanned the extremes of performance and refinement. Even in the company's early days, when the Bentley Boys were racing and winning at Brooklands and Le Mans in their thunderous racing green machines, founder W.O. Bentley was obsessive in his pursuit of smoothness and refinement. "I have put up with a lot of noise in my time, but I don't like it," he wrote in his autobiography, adding, "I hate noise for the sake of noise. To me 70 mph in silence is far more creditable than a noisy 80 mph." Today's Bentley's Azures are quieter at 150 miles an hour than anything W.O. Bentley would have experienced at 70.
Comfort and Wellness
Bentley customers live life to the full, but the demands of today's 'always on' world can engender a sense of stress and mental fatigue - daily stress reached a record high in 2021, according to the Global Workplace 2021 Report of 43 per cent. A Bentley Azure provides a haven of calm, both sonically, visually and emotionally, providing the opportunity to recharge one's mental batteries.
The new Bentayga Extended Wheelbase is the pinnacle model in the Azure range, building even further on the Azure offering with the addition of the most advanced seat ever fitted to the car – Bentley's Airline Seat Specification. Available in the rear cabin for the four-seat and 4+1 layouts, the seat includes 22-ways of adjustment and world-firsts in a new auto climate sensing system and postural adjustment technology.
In Relax mode, the seat can recline to 40 degrees, whilst the passenger seat is motored forwards and a beautifully leather-trimmed footrest deploys from the back of the front passenger seat. In Business Mode, the seat moves into its most upright position to make working on the move more comfortable.
With Seat Auto Climate, a passenger selects their desired temperature setpoint from six different levels. The contact temperature and surface humidity are then directly measured – cushion and backrest independently – and the heating and ventilation are adjusted to achieve the required temperature. This is continuously monitored to ensure it remains constant as optimised body temperature is vital when the focus is on individual wellbeing. In studies that have manipulated body temperature via external means, it has generally been reported that cognitive function is reduced by decreasing body temperature below normal. A comfortable thermal environment can also alleviate fatigue, reduce irritability, and improve driving safety [Szczurek & Maciejewska 2016].
The Postural Adjustment function uses new thigh and shoulder pockets, plus additional lumbar massage pockets, to subtly yet continuously change the shape of the seat to ease pressure points around the body, preventing dead spots and fatigue build up. There are three different programmes available, 'All areas of the seat', 'Twist' and 'Backrest only'. The use of air pockets enables more continuous and complex movements to be made – which are virtually imperceptible to the passenger – rather than the linear movements resulting from the use of seat motors. The system goes beyond the 2D motions typical of adjustable seats, able to employ a three-dimensional twist to relieve pressure points. Six independent pressure zones can provide 177 adjustments every three hours to ensure that seat comfort is never compromised, regardless of the length of the journey. Studies have shown that actively supporting body weight in a dynamic way relieves strain, which can prime mental stress and create lack of focus. Natural supported postures have been shown to alleviate stress from tensed muscles.
- ENDS –
* Subject to regional availability
Notes to editors
Bentley Motors is the most sought-after luxury car brand in the world. The company's headquarters in Crewe is home to all of its operations including design, R&D, engineering, Mulliner and production of the company's five model lines, Continental GT, Continental GT Convertible, Flying Spur, Bentayga and Bentayga EWB. The combination of fine craftsmanship, using skills that have been handed down through generations, alongside engineering expertise and cutting-edge technology is unique to UK luxury car brands such as Bentley. It is also an example of high-value British manufacturing at its best. Bentley employs around 3,000 people at Crewe.
Bentayga Extended Wheelbase is available to order in most markets, but is currently not available in EU27, UK, Switzerland, Israel, Ukraine, Norway, Turkey and Vietnam.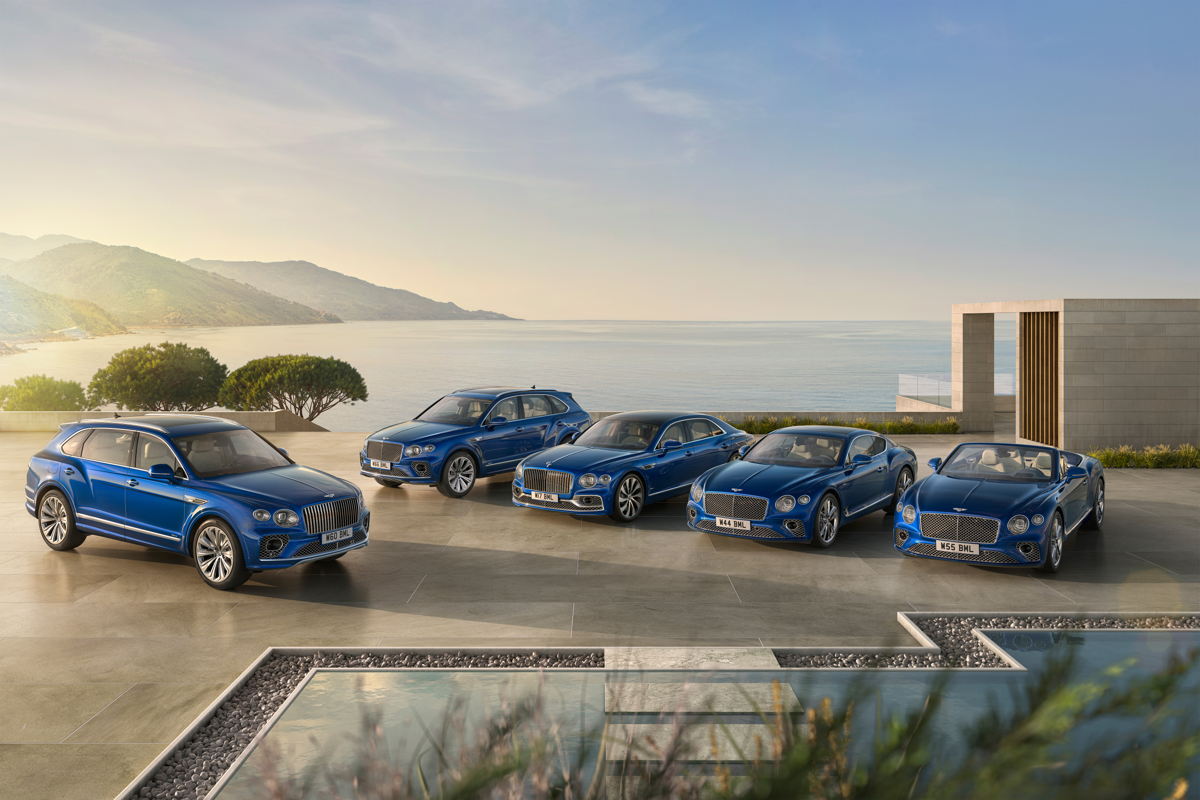 Bernard Van Bellingen PR Manager, Bentley - Bugatti - Lamborghini