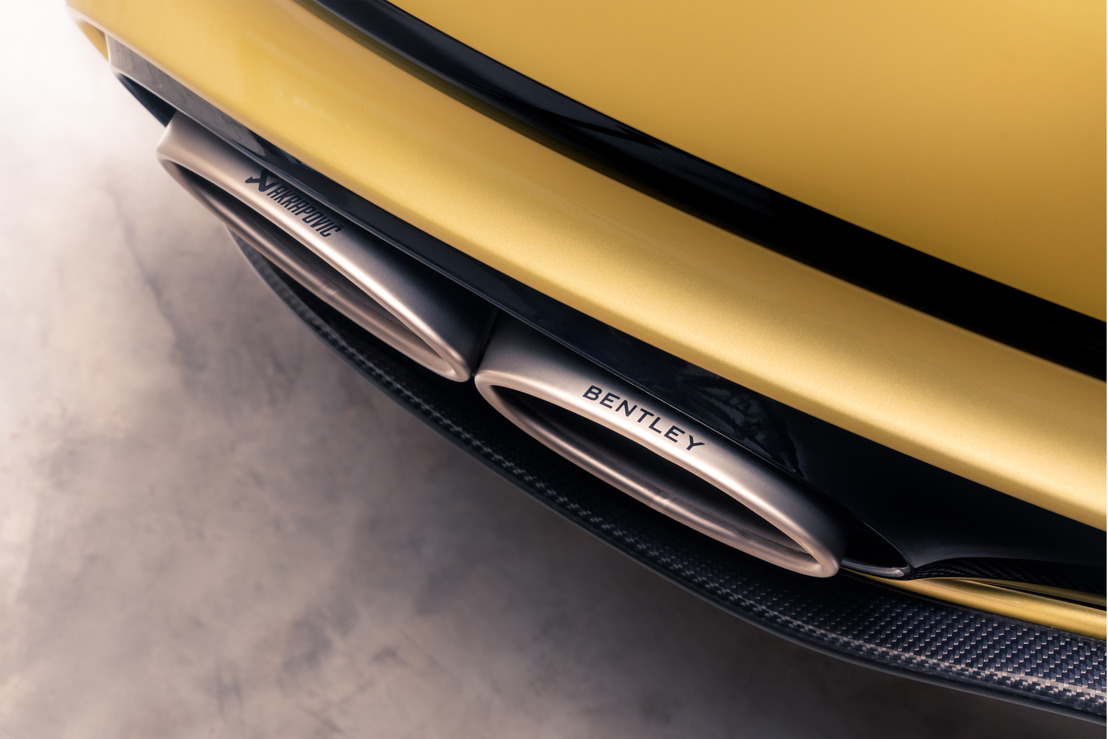 THE NEW CONTINENTAL GT SPEED SPORTS EXHAUST BY AKRAPOVIČ
Monday, September 20, 2021
New Titanium Sports Exhaust by Akrapovič now available for the latest generation Continental GT Speed and GT Speed Convertible
Originally developed for the record-breaking Pikes Peak Continental GT
Acoustically tuned to enhance exhaust note at start up and throughout the driving experience
Engineered to increase performance, improve throttle response and provide greater durability
Use of titanium and super-alloys achieves 7 kg weight saving over standard components
Matte surface finish with Akrapovič branded tailpipes
Bentley engineers have collaborated with Akrapovič - known for its expertise in class leading performance exhausts, to offer a new titanium sports exhaust for the new Continental GT Speed and GT Speed Convertible.
The new lightweight exhaust system is the result of an extensive development process that included testing on the record-breaking Pikes Peak Continental GT, which holds the Production Car record at the Pikes Peak International Hill Climb. The car beat the previous record by 8.4 seconds over the gruelling 12.42-mile course in Colorado in 2019.
The new Continental GT Speed is the most dynamic road car in Bentley's 101-year history and the ultimate performance-focused interpretation of the world's benchmark luxury Grand Tourer. The new sports exhaust has been designed to intensify the deep and irresistible character of Bentley's iconic W12 engine, which is the most advanced 12-cylinder engine in the world, perfectly suited for grand touring or spirited dynamic driving. When in SPORT mode this is also accompanied with a rich, high frequency soundtrack and distinctive burbles on overrun. To vary the sound and regulate the exhaust gas flow, a value is mounted on each rear muffler - managed by a dedicated electronic control unit.
The design of the exhaust focuses on maximum strength, minimum weight, optimum flow and maximum heat resistance, all contributing to the highest performance possible. The exhaust has been made completely from titanium with the complex parts manufactured at Akrapovič's own in-house titanium foundry. The use of titanium together with super-alloys achieves a seven kilogram weight saving over the standard exhaust system.
An advantage of the system, which breathes more freely, is an improvement in throttle response thanks to a lower system back pressure which improves turbocharger performance.
The sports exhaust is visually different from standard, with quad oval tailpipes with a matte titanium finish, and subtle Bentley and Akrapovič branding. The exterior is sandblasted and then coated to give a uniform surface finish; with increased durability and scratch resistance.
Performance Options for a Performance Grand Tourer
The new GT Speed is the ultimate performance-focused expression of Bentley's definitive Grand Tourer, yet maintains the luxury, comfort and usability of its siblings. It is equipped with an up-rated version of Bentley's renowned 6.0-litre W12 TSI engine, delivering 659 PS (650 bhp) – a 4 per cent increase of 24 PS over the current W12 model – whilst maintaining an extraordinary 900 Nm (664 lb.ft) of torque. With exceptional handling, this results in a top speed of 208 mph (335 km/h) and 0-60 mph in 3.5 seconds (0-100 km/h in 3.6 seconds), a reduction of 0.1 second.
Both engine and transmission have been deliberately calibrated to suit the car's driver-focused credentials. This is most noticeable in SPORT mode, where the twin-turbocharged W12 has been tuned to keep the engine in the power band longer by up-shifting later, or downshifting earlier. This creates a more eager response to the driver's throttle inputs. This is where the rich high frequency soundtrack and distinctive burbles on overrun can be clearly experienced.
Evolution from Previous Generations
Customers were first able to specify a sports exhaust at the introduction of the second generation Continental GT V8 S in 2012. Offering further character and more emotional engagement, the additional choice for customers was quickly embraced.
In 2014, the limited edition Continental GT3-R showcased a new lightweight titanium exhaust manufactured by Akrapovič, pioneers in the innovative use of titanium and super-alloys delivering increased performance and saving further weight off the most driver-focused Bentley of its time.
Five years later the record holding Pikes Peak Continental GT has been used to develop the newest sports exhaust for the latest generation of road going Grand Tourers.
Today customers can now opt for a sports exhaust to be fitted to their Continental GT Speed via their retailer.
- ENDS -
Notes to editors
Bentley Motors is the most sought-after luxury car brand in the world. The company's headquarters in Crewe is home to all of its operations including design, R&D, engineering, Mulliner and production of the company's three model lines, Continental, Flying Spur, and Bentayga. The combination of fine craftsmanship, using skills that have been handed down through generations, alongside engineering expertise and cutting-edge technology is unique to UK luxury car brands such as Bentley. It is also an example of high-value British manufacturing at its best. Bentley employs around 4,000 people at Crewe.
All vehicles in release: WLTP drive cycle: fuel consumption, mpg (l/100km) – Combined 20.0-20.6 (14.1-13.7). Combined CO₂ – 311-320g/km.
Bernard Van Bellingen PR Manager, Bentley - Bugatti - Lamborghini