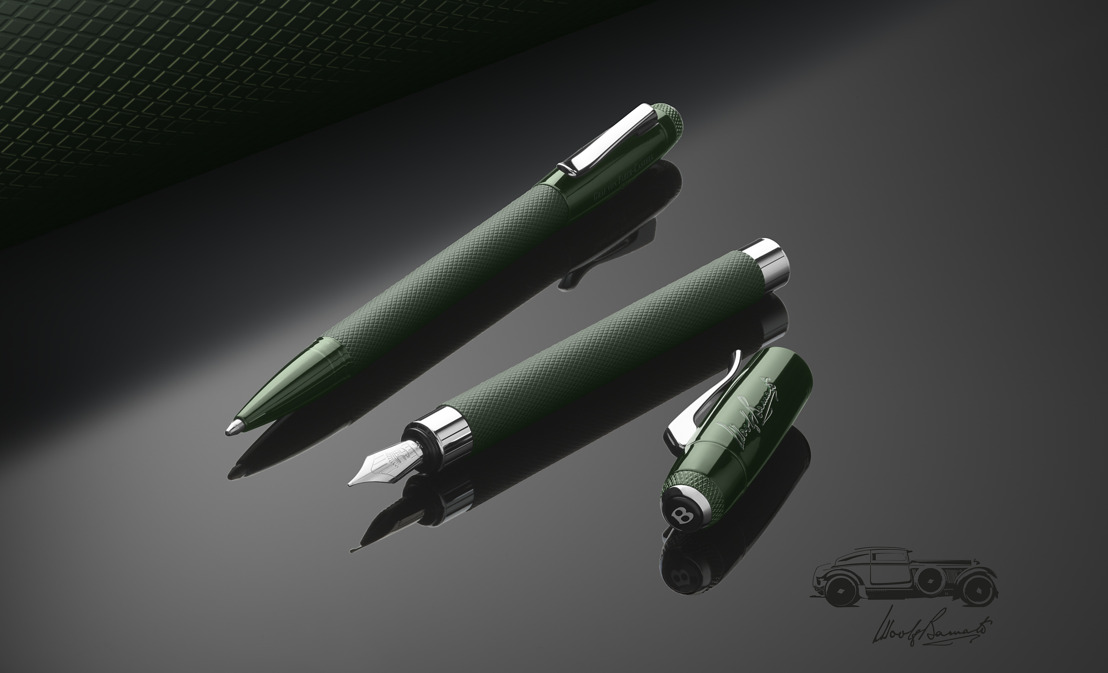 HOMAGE TO A LEGEND: BENTLEY "LIMITED EDITION BARNATO" BY GRAF VON FABER-CASTELL
Monday, October 12, 2020
Celebrating the 90th anniversary of the famous "Blue Train Race", the Bentley "Limited Edition Barnato" pen series has been created
Inspired by Woolf Barnato who plays a very special part in Bentley's history as one of the original Bentley Boys
Each limited edition pen features Barnato's handwritten signature on the cap and the barrels are lacquered in his signature green
Exclusively limited to just 1,930 pieces in honour of the year of the "Blue Train Race"
Available to buy from the Bentley Collection Website: https://shop.bentleymotors.com/collections/graf-von-faber-castell-pens
The "Blue Train Race" is woven into the exciting fabric of Bentley's history and 'Bentley Boy' Woolf Barnato endures as the icon of this tale. 90 years on, Bentley's partner, Graf von Faber-Castell has created a truly unique set of writing instruments in tribute to this race and to Barnato himself. Not only does their design reflect the decades of performance and elegance that succeed him, but his handwritten signature imprinted on the cap ensures his authentic presence endures.
Bentley and Graf von Faber-Castell have been in partnership since 2018 sharing a passion for unrivalled craftsmanship and unmistakeable design. The spirit of Bentley legend Woolf Barnato lives on through the latest collaboration between the two brands, with writing instruments that combine modern luxury with extraordinary timelessness.
Each exquisite pen within the new series features a lacquered metal barrel in the characteristic dark 'racing' green that is often associated with Barnato. The barrel is carefully hand-guilloched in the signature diamond pattern that forms a strong part of Bentley's own design language. The chrome-plated front and end section of the pen also gleams in a dark green glaze. The cap is adorned with the iconic Bentley B, Bentley-style knurling and Woolf Barnato's original, handwritten signature as a reminder of the extraordinary spirit that lives on at Bentley today.
Just 1,930 pieces have been made by Graf von Faber-Castell and Bentley to honour the year of the famous "Blue Train" Race in 1930, and the edition number is engraved on the threaded ring of each pen.
One of the original Bentley Boys, Woolf Barnato was a three-time Le Mans winner, and also Managing Director of Bentley Motors from 1926-1931; he lived a life of glamour, speed and adventure. He often proudly told the story of the "Blue Train Race", in which he made a bet that he could reach London from Cannes in his Bentley Speed Six before the Le Train Bleu made it from Cannes to Calais. Of course, Barnato seemingly effortlessly beat the train with just minutes to spare.
Few cars embody the glamour, speed and power of the pre-war Bentley era better than the 'Blue Train' Bentley Speed Six. It is said that Barnato made the race bet with a friend while at a dinner party on board a yacht near Cannes. The Blue Train itself, officially the Calais-Mediterranée Express, was the luxurious express night train, that famously whisked the rich and famous from Calais to the French Riviera in luxury and style. Barnato's claim that he could beat it with his Bentley was bold and audacious, but the bet paid off and he succeeded in style.
This legendary tale and Barnato's confident spirit were the inspiration behind Graf von Faber-Castell's latest collection of limited edition pens for Bentley. Created from the finest materials and assembled by master craftsmen, these writing instruments are built for performance on paper and the designs ooze sumptuous elegance.
This series features three options; the Fountain pen with a high-quality stainless steel nib, available in widths M, F, EF and B and with a cartridge converter system; the Rollerball pen with precision point that glides smoothly over the paper; and the Ballpoint pen equipped with a large capacity refill in standard size.
Graf von Faber-Castell for Bentley writing instruments are available to order online via shop.BentleyMotors.com and via Graf von Faber-Castell stockists. The range is available to pre-order now for delivery in early November 2020.
Limited Edition Barnato Fountain Pen, £530 https://shop.bentleymotors.com/products/limited-edition-barnato-fountain-pen
Limited Edition Barnato Rollerball Pen, £490 https://shop.bentleymotors.com/products/limited-edition-barnato-rollerball-pen
Limited Edition Barnato Ballpoint Pen, £450 https://shop.bentleymotors.com/products/limited-edition-barnato-ballpoint-pen
- ENDS -
Notes to editors
About Bentley Motors
Bentley Motors is the most sought after luxury car brand in the world. The company's headquarters in Crewe is home to all of its operations including design, R&D, engineering and production of the company's three model lines, Bentayga, Continental and Flying Spur. The combination of fine craftsmanship, using skills that have been handed down through generations, alongside engineering expertise and cutting-edge technology is unique to UK luxury car brands such as Bentley. It is also an example of high-value British manufacturing at its best. Bentley employs around 4,000 people at Crewe.
About Graf von Faber-Castell
Founded in 1761, Faber-Castell is one of the most renowned manufacturers of high-quality writing and drawing instruments worldwide. Since 1993, the Graf von Faber-Castell luxury brand has been applying traditional craftsmanship and sophisticated design to ever new cooperation ideas, making it a perfect match with the equally style-conscious and innovative spirit of Bentley.