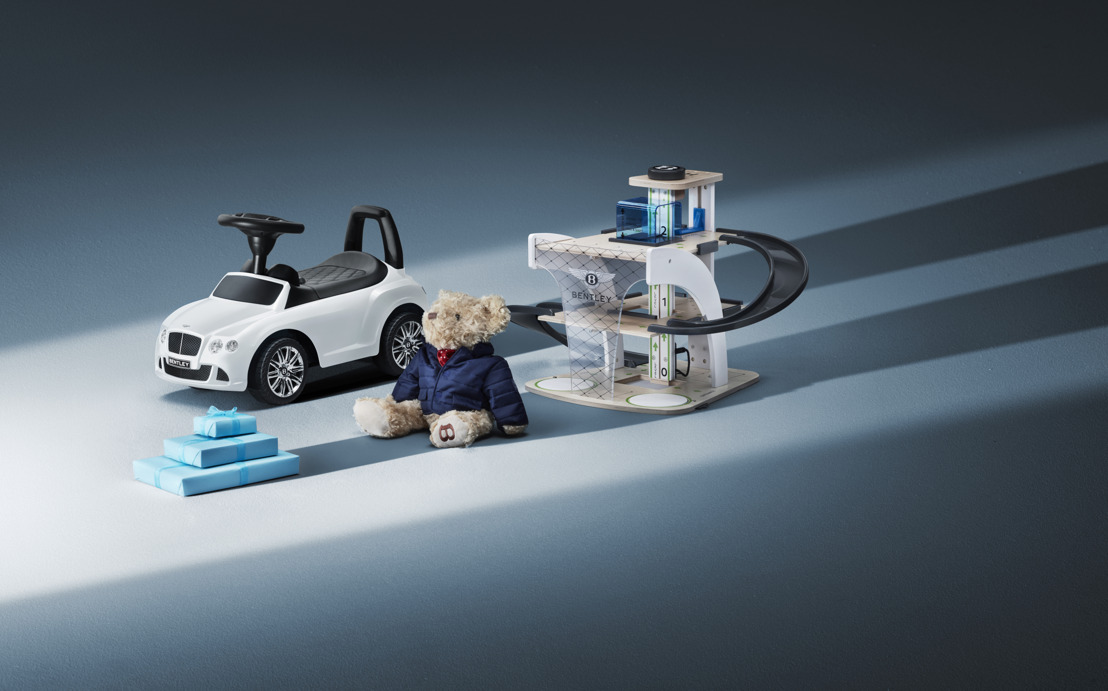 ENJOY FANTASTIC FUN AND EXCITING GAMES FOR EVERYBODY INSIDE THE WORLD OF BENTLEY
Tuesday, June 16, 2020
The Bentley Collection's wooden toys and accessories inspired by the Bentley Boys will bring a smile to the faces of children everywhere
Inspired by Bentley's Motorshow stand, the Wooden Toy Garage displays all the angles of a child's toy car collection, with a heliport to welcome VIP guests
Budding young drivers and enthusiasts will be thrilled by their first glimpse of a miniature Continental GT in the garden or in their living room
For the next generation of Bentley aficionados there is a range of exciting and collectable products to be treasured, from lovable toys to testing board games that keep young minds and bodies in gear at home
Bentley Collection: https://shop.bentleymotors.com/collections/children/toys
It's never too early to join the World of Bentley, and for budding Bentley Boys and Bentley Girls they can find hours of fun and games designed to delight and entertain them from Bentley's exclusive collection of items for children.
From wooden garages to soft teddy toys, board games to ride-on Bentley models, there is something to suit all ages. Banish boredom and welcome new experiences and challenges for the younger members of the household, from the budding race drivers and junior engineers among them to mathematical wizards and intrepid explorers.
Stories of delight
Nothing surpasses the look and feel of traditional wooden toys, powered by a child's imagination. Designed to create wonder in inquisitive hands, they are crafted to last a lifetime and to bring back memories of family time together. Our carefully designed toys combine fun and play with educational development and each – naturally – is unmistakably Bentley.
Bentley's Wooden Toy Garage, inspired by the marque's Motorshow stand, offers hours of fun and engrossing activity. Three storeys include functional turntables, a heliport, manual elevator and fuel pump and washing station – everything a toddler needs to enjoy and participate in imaginary car ownership and the world of Bentley. The turntables are perfect for displaying all the angles of a child's toy car collection, the elevator for moving cars around the garage, and the heliport is ready to welcome VIP guests. The perspex front takes inspiration from the iconic Bentley diamond design pattern, with the Bentley logo featuring in the centre.
All the wood in the toy is certified by the FSC (Forest Stewardship Council), an international body that adheres to 10 principles to ensure forests are sustainably managed, and environmental impact minimised.
Not currently available in the US, the garage requires some assembly and is suitable for children aged 3 +. Made of wood and perspex, its measurements are W 81 x H 46 x D 43cm.
Engineered to entertain
The car theme gathers pace for slightly older children (ages two to six years) who can let their imaginations soar in the Continental Ride-On Car. Inspired by the Continental GT and expertly colour matched to the car, the ride-on model is equipped with a functional steering wheel, a horn and a selection of different musical tones. Complete with a back rest and rear anti-topple feature, making it safe for play both indoors and out, the car also features convenient storage space under the seat.
Designed to appeal to every sense, this is a ride-on car to see, feel, hear and appreciate, destined to be the favourite in any child's range of toys. The car requires some assembly and 2x 1.5V AA batteries (not included). Available in White and Dragon Red, its dimensions are 66 x 29 x 30 cm.
The ride-on Continental GT also introduces children to the world of grand touring, as Bentley's full-sized new Continental GTs herald a new era of unrivalled power, exquisite craftsmanship and cutting-edge automotive technology. Its sleek lines carve a sharp path through the air, whether in coupe or convertible form, and for the full-sized models with either a powerful W12 engine or a lively V8 engine. Built from the ground up with a new Bentley design language, new Bentley technology and new levels of handcrafted detail, it elevates the concept of grand touring to new heights.
Bearing memories of the Bentley Boys
Irresistible pieces for children – many of which are also guaranteed to appeal to parents – include the Birkin Teddy Bear. Inspired by Sir Henry 'Tim' Birkin – perhaps the most famous Bentley Boy – this soft plush bear features the signature Birkin spot scarf and driving jacket.
Sir Henry was famed as a top racing driver, always dapper in his trademark silk neckerchief flapping in the wind as he tore around Brooklands, the Nurburgring or Le Mans racetracks. Using the family fortune made through Nottingham lace, Sir Henry travelled the world, living the glamorous life of a 1920s racing hero as one of the original "Bentley Boys".
He is best known for persuading the wealthy heiress The Hon Dorothy Paget to finance a team of supercharged 4 ½ Litre Bentleys that became known as the 'Blowers'. Too fragile for endurance racing, they were unbeatable in sprints with Birkin at the wheel, and in 1932 he set an impressive record at Brooklands of 137.96mph.
At the family home in Ruddington Grange, just outside Nottingham, the words written by Sir Henry "every day, in every way, faster and faster" were found daubed on a stable wall long after the house had been demolished. While not an exact likeness of Sir Henry the blond bear resembles him in its lively attitude and looks. Beautifully soft to the touch, Bentley's luxury bear is crafted in plush fur and features an adorable embroidered nose and mouth. Adorned with the Bentley 'B' on its paw, with a height of 40 cm it is a charming toy that will be handed down through the generations.
Game for discovery
Bentley's Ravensburger Memory Game makes the extraordinary unforgettable. Few other games are so successful at bringing players of all ages to the same table. The classic family game can be varied to suit any age as it connects generations, creates common ground and is always tremendous fun.
The car memory game uses 72 high-quality memory picture cards of Bentleys both past and present. So many people know and love the classic Ravensburger game; memory®. First played in 1959, the legendary memory game has been constantly reinvented. The Bentley game features colourful cards of heritage and modern Bentleys, which remain in the player's mind because of the happy memories that flow from playing the game together.
Pick a card, turn it over – and discover the hidden picture! Every memory game is an exciting voyage of discovery, and we want to help everyone create happy recollections of playing Bentley's Ravensburger Memory Game with friends and family.
For young racing fans who have followed Bentley's Motorsport activities around the world, the final challenging toy to keep them interested and engaged is the Bentley Ravensburger puzzle, a 300-piece race car jigsaw puzzle. This recreates the moment when Bentley's newly liveried 2016 Continental GT3 burst back on the scene at the 12 Hours of Bathurst. The Continental GT3 is a dedicated race car in an acclaimed Bentley motorsport lineage that includes the 4½ Litre, Speed Six and Speed 8 Le Mans winners.
Bathurst's dramatic 23-turn, 6.2 km circuit in New South Wales, Australia, is considered one of the world's toughest thanks to its high speeds, narrow mountain section and steep elevation changes. Total commitment is required at all times around a track that reverts to being a public road post-event, while the 1.9 km Conrod Straight – where the Continental GT3 can hit speeds of 170 mph (270 km/h) – is one of the longest to be sanctioned in world motorsport.
You can recreate this exhilarating race as you put the final piece of the jigsaw into the winning GT3. For children age 9+ years, the puzzle is 36 x 49 cm when assembled.
Bentley Collection links:
https://shop.bentleymotors.com/products/wooden-garage
https://shop.bentleymotors.com/products/continental-ride-on-car
https://shop.bentleymotors.com/products/birkin-teddy-bear
https://shop.bentleymotors.com/products/bentley-ravensburger-memory-game
https://shop.bentleymotors.com/products/bentley-ravensburger-puzzle
The full Bentley Collection range can be found at https://shop.bentleymotors.com/.