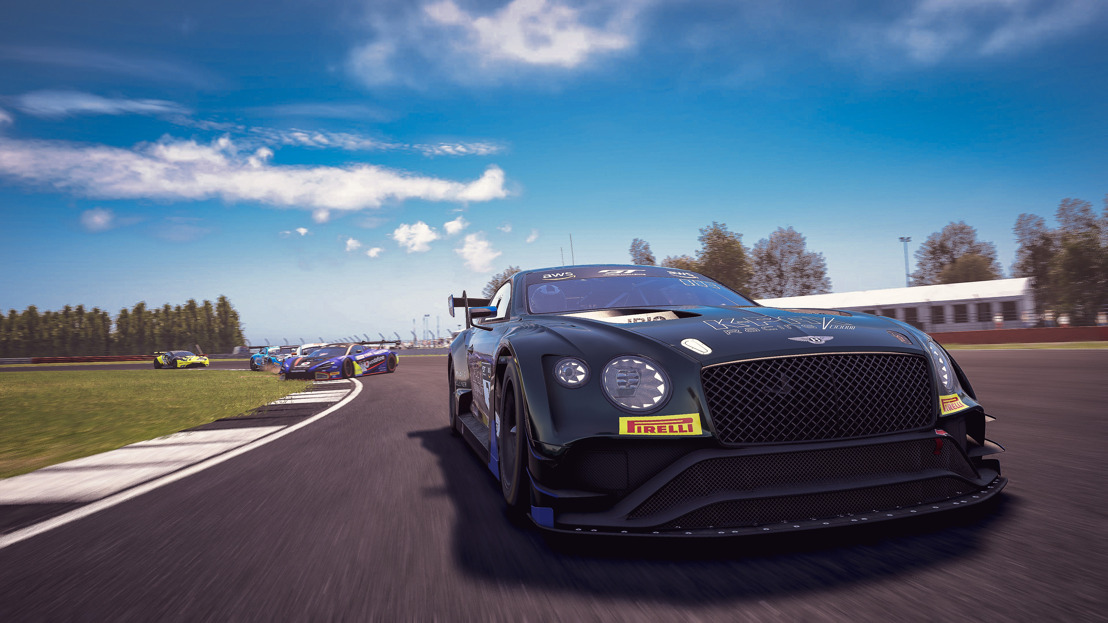 BENTLEY WINS THE OPENING ROUND OF THE SRO E-SPORT GT SERIES
Monday, April 27, 2020
Bentley Continental GT3 win first race of SRO E-Sport GT Series
Bentley works driver Jordan Pepper takes the 'Pro' class chequered flag for K-PAX Racing by SIRIO eSports
K-PAX Racing by SIRIO eSports driver Alberto Garcia takes fourth place finish in the 'Silver' class
Focus returns to GT Rivals series with Guy Cosmo and Patrick Byrne
The Bentley Continental GT3 has won the opening round of the SRO E-Sport GT Series with K-PAX Racing by SIRIO eSports and Bentley works driver Jordan Pepper (ZAR).
Bentley Motorsport entered esports a little less than two weeks ago but 14 Continental GT3s lined-up on the grid at Silverstone on Sunday with real-world works team racers, real-world customer racers, three newly-signed works team sim racers and several super 'Silvers'. They represented four real-world customer teams and one sim racing team and raced across two highly competitive classes.
In the 'Pro' class race, for real-world racers, Pepper was victorious in his #3 Continental GT3 run by K-PAX Racing by SIRIO eSports, the new esports division established by the real-world GT World Challenge team. Fellow Bentley Motorsport works driver Seb Morris (GBR) finished in sixth place in his debut sim race and Romain Monti (FRA) from Bullitt Racing just missed out on the top-ten after a penalty dropped him from fourth.
In the 'Silver' class, for elite sim racers, K-PAX Racing by SIRIO eSports made the top-five with Alberto Garcia (ESP) securing fourth place. Meanwhile, Bentley Motorsport's new works sim racers Mike Nobel (NDL), Andre Franke (DEU) and Jarkko Torvinen (FIN) finished in positions 17 through 19, respectively.
As the 'Silver' class cars crossed the line, attention returned to the KPAX-Racing's GT Rivals campaign. Real-world racers Guy Cosmo (USA) and Patrick Byrne (USA) returned for round three of the American series, which is taking in the most iconic tracks around the world, this time visiting Paul Ricard in France.
The Continental GT3's success in the virtual world reflects its strong start to the season in the real world, where it took victory at the Bathurst 12 Hour. It is also fitting that Bentley's first virtual GT3 race win came at the same track that its first real-world GT3 win came back in 2014.
Bentley's Director of Motorsport, Paul Williams, comments:
"My congratulations to K-PAX Racing by SIRIO eSports and Jordan [Pepper] for taking the win. As a team, they have approached this with the same enthusiasm, dedication and professionalism that we have come to know from them and it all paid off.
"The work that has gone into having 14 competitive cars and drivers in such a short space of time has been incredible. We were all thrown together on Discord just a week ago – although there are several real-world racers whom we knew, of course, we have several sim racers representing our brand who we had to start working with right away.
"I want to say a special thanks to all of the drivers, team managers, technical directors and engineers who have worked so hard to this point. And, of course say congratulations to SRO, Kunos and AK Informatica for the promotion, presentation and organisation of a fantastic season-opener.
"It's now time to return to supporting Guy [Cosmo] and Patrick [Byrne] in their GT Rivals campaign. We've had a Paul Ricard test server in service for them all week and we've been working together on set-up. They are both doing a fantastic job of representing us in the USA while real racing is suspended."
With the opening round of the 'Pro' and 'Silver' classes complete, the SRO E-Sport GT Series hot lap qualifiers for the Am class will now begin, with the fastest 40 earning their spot in the series on 10th May. Assetto Corsa Competizione gamers can sign-up to register for the 'Am' class now at www.sro-esport.com.
The SRO E-Sport GT Series continues at Spa on 10 May and all of the action will be live at www.youtube.com/gtworld and www.twitch.tv/sromotorsports. Fans can follow the action from all Bentley's esports action on social media by searching @BentleyRacing on Twitter and @BentleyRacingOfficial on Instagram.
Calendar for the 'Pro' and 'Silver' races:
Round 2 - Total 24 Hours of Spa - 10 May
Round 3 - Nürburgring - 17 May
Round 4 - Barcelona – 31 May
Round 5 - Track to be decided by public vote – 14 June
Round 6 - Grand Final - TBD
Calendar for the 'Am' races:
Round 1 - Silverstone – 16 May
Round 2 - Total 24 Hours of Spa - 23 May
Round 3 - Nürburgring - 30 May
Round 4 - Barcelona – 6 June
Round 5 - Track to be decided by public vote – 13 June
Round 6 - Grand Final - TBD
- ENDS –
Driver quotes:
Jordan Pepper, K-PAX Racing by SIRIO eSports Continental GT3 (Pro): "That was amazing! Massive thanks first of all to the entire team at K-PAX Racing by SIRIO eSports. The car that they gave me was unreal. The guys worked super hard. I didn't really have time to practice that much so all my credit goes out to them. Also, thanks to my amazing manufacturer Bentley. Thanks for all of the input into the game - it's awesome to have such backing from the brand and support from our fans. It's my first Bentley esports win and by second win in a Bentley after Bathurst 12 Hour so I'm two-for-two in a Bentley in SRO championships so far this year."
Notes to editors:
Bentley Motors is the most sought after luxury car brand in the world. The company's headquarters in Crewe is home to all of its operations including design, R&D, engineering and production of the company's four model lines, Continental, Flying Spur, Bentayga and Mulsanne. The combination of fine craftsmanship, using skills that have been handed down through generations, alongside engineering expertise and cutting-edge technology is unique to UK luxury car brands such as Bentley. It is also an example of high-value British manufacturing at its best. Bentley employs around 4,000 people at Crewe.
The 2018 Bentley Continental GT3 has five official liveries available in the Assetto Corsa Competizione game, comprising the 2019 and 2020 works team liveries, the two centenary celebration designs launched at last year's 24 Hours of Spa, and a Team Parker Racing customer racing skin.