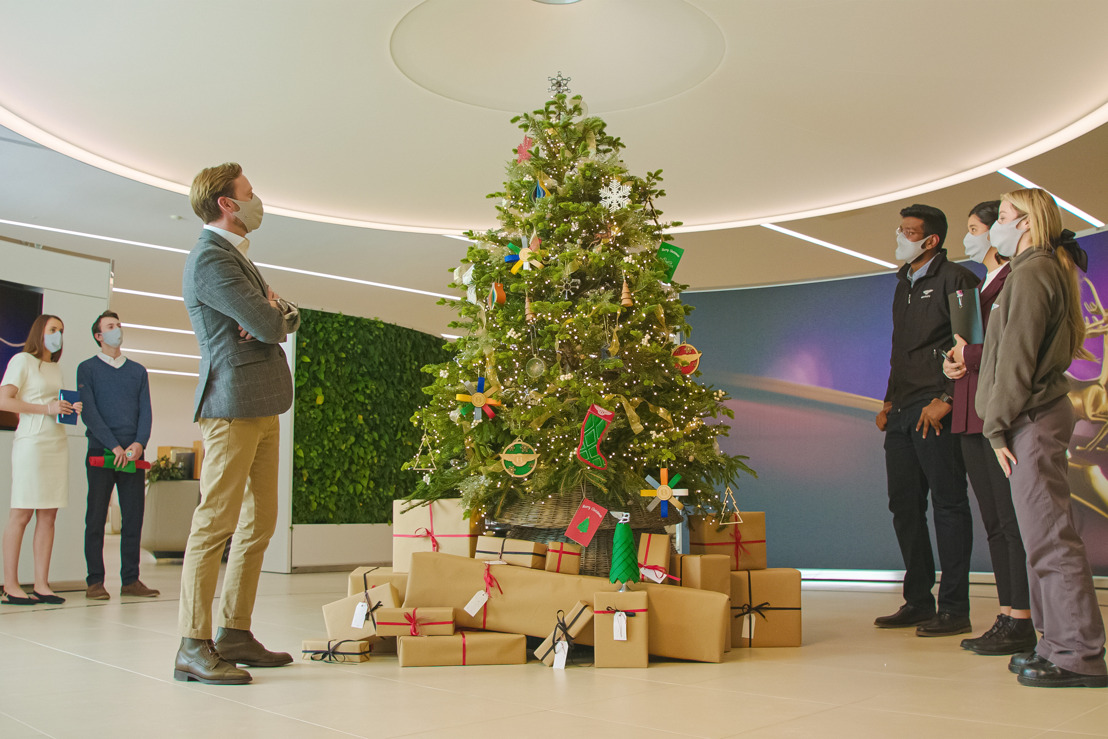 A MAGICAL FESTIVE SURPRISE FROM CREWE
Wednesday, December 8, 2021
Bentley celebrates the holiday season with a campaign inspired by magical fusion of craftsmanship, innovation and sustainability
An eagle-eyed group of crafty apprentices, designers and artisans avert a Christmas decoration catastrophe in Crewe by leaving nothing to waste
Handcrafting a set of 12 unique Christmas decorations that could only be made by Bentley
Decorations feature beautiful wood veneers and leather offcuts, reclaimed straight from the factory floor
Every family has one – the difficult person to buy for. But this year, if your difficult customer is a Bentley aficionado, it's not too late to wrap up the perfect stocking filler for them, thanks to Bentley's limited edition set of sustainable tree decorations. "Sustainabaubles", if you will.
Under the guidance of Bentley's Head of Design Collaboration, Brett Boydell, the 12 beautiful jewel-like decorations were covertly designed by Bentley's in-house apprentices and crafted with help of the artisan craftspeople based at the factory in Crewe.
The decorations are the centrepiece of Bentley's 2021 festive campaign, a beautifully produced film in which the apprentices take on the role of Santa's elves when the whereabouts of Bentley's usual Christmas decorations is thrown into doubt. With help from Brett and master craftspeople in the factory, they covertly rescue offcuts and spare parts, transforming them into beautiful pieces of festive art. Bentley's Board members start to realise that something is up, but know that the extraordinary is always possible in Crewe.
From a delicate bauble inspired by ombré effect stitching in the Odyssean special edition, which incorporates an interior air vent and a range of thread, to a beautifully designed to a leaping reindeer precision lasered from a selection of veneer offcuts – alongside an elegant Christmas trees cut from open pore Koa veneer finished with Danish oil - the designs showcase the range of natural materials used at Bentley
The 12 decorations are not only the stunning centrepiece of Bentley' 2021 festive marketing campaign, they will available to customers to bid on when they are auctioned for good causes through the UK retailer network in their Christmas events.
Chief Elf, Brett Boydell explains:
"No time of year better encapsulates Bentley's magical fusion of craftsmanship, innovation and sustainability than the run up to Christmas and we wanted to capture the excitement - and pressure - that we all feel at this time of year.
"Our apprentices and craftspeople truly rose to the challenge – and have designed and created a beautiful collection of decorations to celebrate Christmas here in Crewe. We hope they will also become treasured mementos for a small number of our lucky customers. And we promise to try not to lose them again next year".
- ENDS –
Notes to editors
Bentley Motors is the most sought-after luxury car brand in the world. The company's headquarters in Crewe is home to all of its operations including design, R&D, engineering, Mulliner and production of the company's three model lines, Continental, Flying Spur, and Bentayga. The combination of fine craftsmanship, using skills that have been handed down through generations, alongside engineering expertise and cutting-edge technology is unique to UK luxury car brands such as Bentley. It is also an example of high-value British manufacturing at its best. Bentley employs around 4,000 people at Crewe.
Bernard Van Bellingen PR Manager, Bentley - Bugatti - Lamborghini