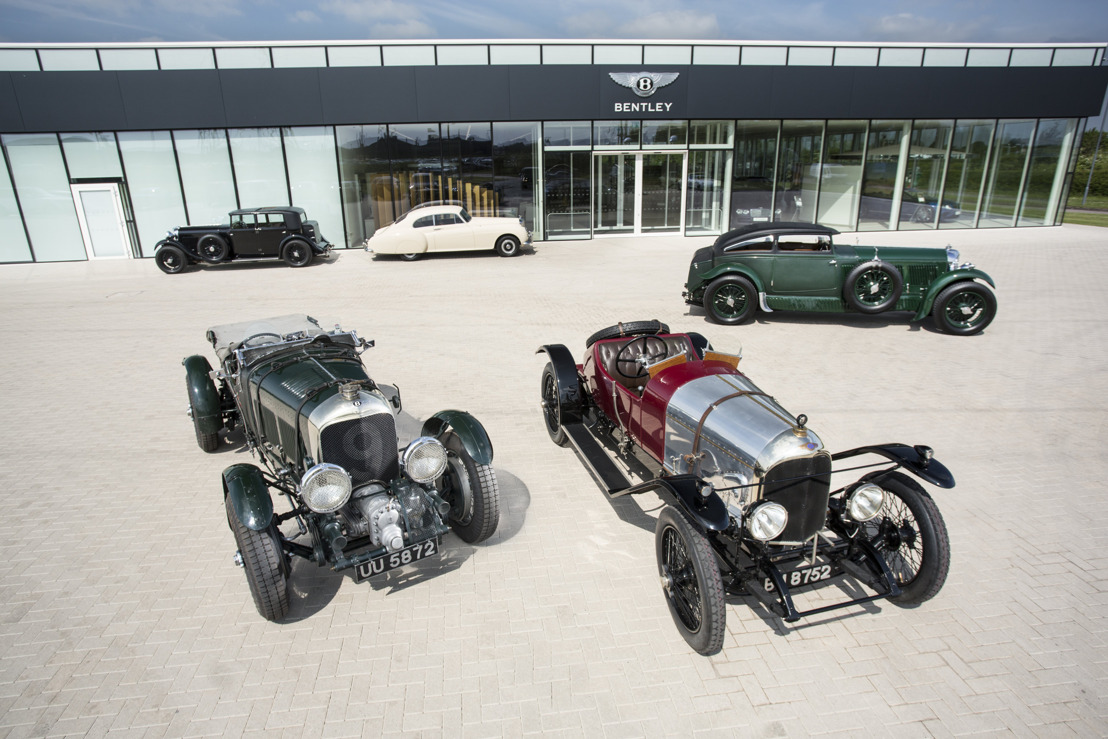 A CENTURY APART – BENTLEY BEGINS YEAR OF EXCLUSIVE CELEBRATIONS
Thursday, January 31, 2019
VIP event marks start of year of activity to celebrate Bentley's Centenary
Historic EXP 2 accompanied by all-new Continental GT Convertible at Retromobile in Porte de Versailles
Global programme of classic and heritage events to run across 2019
As Bentley enters its Centenary year, the oldest remaining and first racing model – EXP 2 – will be displayed at Retromobile, Paris.
The first of many unique events in 2019 that will see Bentley celebrate this landmark year, Retromobile kick-starts the world car show season between 6-10 February at Salon des Expositions, Porte de Versailles.
Showcasing Bentley's motoring evolution over the past 100 years, the British brand's stand in Paris offers visitors a unique opportunity to explore the heritage and the innovation of the British luxury car manufacturer. Joining its illustrious forebear in Paris will be the new Continental GT Convertible – the pinnacle open-top Grand Tourer.
Although separated by 100 years of automotive evolution, the two models share fundamental Bentley characteristics: both are genuine Grand Tourers; both offer sector-defining levels of performance; and both feature innovative technology at their core.
The year, Retromobile celebrates its 44th anniversary, with over 120,000 visitors expected to attend from all over the world. For more information on the event please visit www.retromobile.com.
EXP 2 – The Oldest Surviving & First Racing Bentley
In the first few years of his company's existence, W.O. Bentley made three prototypes: EXP 1 (EXPerimental No.1) at New Street Mews off Baker Street (which first ran in October 1919); EXP 2 built later that year at Bentley's new workshop in Cricklewood (cannibalising much of EXP 1): and EXP 3 – better known as 'The Cab' and W.O.'s personal car.
A legacy of the Cricklewood era, EXP 2 is the oldest Bentley in existence. As the second Bentley to ever be made, its debut was at the 1919 Olympia Motor Show and is a landmark car in the brand's 100-year history.
Drawing influence from W.O. Bentley's pre-war competition experience – when he pioneered the use of aluminium pistons – EXP 2 is also the brand's first car to win a race, powered by a 3.0-litre four-cylinder engine with a top speed of 80 mph.
Frank Clement, W.O.'s development engineer and racing driver, won the Junior Sprint Handicap at Brooklands on 16 May 1921 in EXP2 – the first recorded racing victory for Bentley. Clement not only took the brand's maiden win at the famous banked circuit, but also saw off some famous names in the process.
2019 Calendar of Heritage Events
As Bentley commemorates 100 extraordinary years, brand enthusiasts will be able to join the celebrations at a number of events hosted around the world – showcasing the best of Bentley past and present.
| | | |
| --- | --- | --- |
| EVENT | DATE | LOCATION |
| 44th Salon Rétromobile | 6-10 February | Paris, France |
| 13th Annual Boca Concours d'Elegance | 22-24 February | Boca Raton, Florida, US |
| W.O. Bonhams exhibition | 11 April | London |
| Bentley Drivers Club Centenary Extraordinary Drive | 15-31 March | Castle of Mey – Crewe – London |
| Benjafield Racing Club, W.O. race | 13 April | Silverstone race track |
| Mille Miglia | 15-18 May | Brescia – Rome – Brescia, IT |
| 24 Hours of Le Mans | 15-16 June | Le Mans, France |
| RREC Annual Rally & Concours | 21 June | Burghley house, England |
| Chantilly Arts & Elegance | 30 June | Chantilly, France |
| RROC National Meeting | 22-27 July | Detroit, US |
| Pebble Beach Concours d'Elegance | 21-26 August | Carmel, California, US |
| Salon Privé Concours d'Elegance | 6-8 September | Blenheim Palace, Oxfordshire, UK |
Bentley's Centenary – 100 Years of Extraordinary
In 1919 Walter Owen (W.O.) Bentley created a company with a simple objective: to build "a fast car, a good car, the best in its class". This guiding principle has driven Bentley ever since, pushing the brand forward and making it the leader in automotive luxury around the world today.
The 10th of July 2019 marks Bentley's 100th year and this extraordinary milestone – reached by only a special few companies – will be a cause for celebration of the company's history, its global success today and its exciting future.